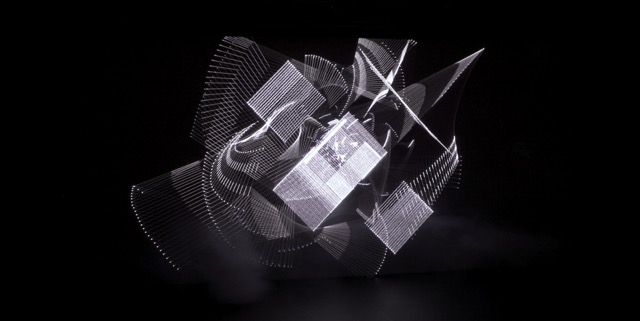 After thirty years, the internationally renowned conference on computer music ICMC (International Computer Music Conference) is returning to the Netherlands. The conference is organised by Gaudeamus Muziekweek and HKU Music and Technology, and will be held in Utrecht from 12 to 16 September. The theme is 'Is the Sky the Limit?' and the German mastermind of electronic music Robert Henke (Monolake) will uniquely approach this question onstage with a concert on the 15th of September in TivoliVredenburg.
With his self-built instruments, his compositions based on mathematical algorithms and the way he blends music with visual art, Henke is the ultimate embodiment of what the ICMC conference stands for: innovation, the urge to experiment and cross-discipline musical art.
"Since the first ICMC in 1974, this conference has only been organised once in the Netherlands; in 1986 by the Royal Conservatoire in The Hague", says Rens Machielse, director of HKU Music and Technology. "So the ICMC 2016, organised jointly by HKU Music and Technology and Gaudeamus Muziekweek, in Utrecht, is very special. Utrecht is a city of knowledge and culture, where music plays an important role. The ICMC fits perfectly in the range of musical events, from the Early Music Festival to the TivoliVredenburg music centre and the many annual festivals and concerts".
ICMC is an annual conference for everyone working with electronic music. It is a unique meeting place for composers, sound designers, performers, technologists and academics. The programme will be published shortly on icmc2016.com. You can also buy tickets through the website, with an early-bird discount until 14 May.
The conference, under the auspices of the International Computer Music Association (ICMA), is held at a different location each year. More information: computermusic.org.
About HKU Music and Technology
HKU Music and Technology provides Bachelor's and Master's programmes in the field of progressive musical practice and research. A considerable number of the alumni go on to work in the creative industry. HKU Music and Technology also uses education and research for the good of society, through activities like healthcare projects for the visually impaired, research into better music education, and reusing cultural heritage through musical and technological applications.
About Gaudeamus Muziekweek
Gaudeamus Muziekweek presents the latest work by young music pioneers, and organises music activities throughout the year in cooperation with partners in the Netherlands and abroad. Gaudeamus Muziekweek scouts music pioneers, encourages their development, provides them with a platform and thus brings the music of today to inquiring music lovers. The annual highlight is the music week of the same name in Utrecht, which will take place this year from 7 to 11 September 2016, prior to the ICMC.
ICMC 2016 receives funding from the City of Utrecht and TivoliVredenburg.